Happening Now
Bring Passenger Rail Service Back to Mobile
January 10, 2020
ACTION ALERT | The Southern Rail Commission and Rail Passengers Association Needs Your Help
UPDATED TO REFLECT THE NEW MEETING DATE

On Tuesday, February 4th, the Mobile City Council will decide whether or not to endorse a resolution committing financial support toward the restoration of Amtrak service along the Gulf Coast. The city is being asked to commit $3.048 million over three years in potential matching funds that will be combined with federal grant monies and similar funding from Mississippi and Louisiana to help pay operational costs of a route that will connect daily train service connecting New Orleans, Pascagoula, Biloxi, Gulfport, Bay St. Louis, and Mobile. via passenger rail.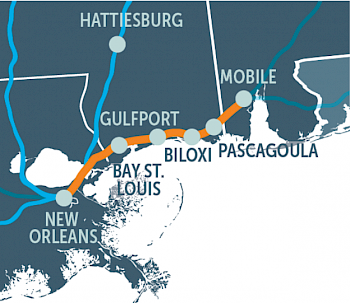 Why now? On behalf of the proposed train operation which will serve Mississippi, Louisiana and Alabama, the Southern Rail Commission (SRC) is applying for nearly $8 million in Federal Railroad Administration "Restoration & Enhancement" (RE) funding. The grant application is due on February 6th. The RE program helps offset the first 3 years of operating costs for restored or enhanced passenger rail services. These grant funds are tiered over three years and require a commensurate 3-year commitment from the three states this route will serve to provide for the net remaining operating costs after the federal grant and any passenger generated revenue from tickets, food and beverage sales. The grants will pay for 80% of the states' cost in year 1, 60% in year 2, and 40% in year 3. This three-year program is designed to help a restored or enhanced service build ridership and revenues. In 2019, the SRC was awarded an FY17 RE grant providing $4.5+ million in operations cost support. The upcoming grant opportunity will provide FY18, FY19, and FY20 RE funds that will be added to the initial grant award and provide nearly $11.8 million in federal funds for the initial 3-year operating term. Mississippi and Louisiana have already pledged their needed match funds.
What can you do? The City Council needs to hear from you! YOU ARE THE LOCAL & REGIONAL RESIDENTS WHO WOULD USE THIS TRAIN.
Click here to email Mayor Sandy Stimpson and the Mobile City Council to share your story. Let them know how important the return of Gulf Coast rail is to you.
Did you know that train travel contributes to a sustainable environment? Trains help remove cars off the road and are 33% more energy efficient than automobiles.

Amtrak is a valued partner in emergency preparations and response. Its support moving people and supplies during Hurricanes Harvey and Irma were very important to coastal communities being heavily impacted by those storms.

Some people face tremendous challenges when having to travel. Cars or buses can be painful, uncomfortable, or simply not available. Having passenger train service provides mobility opportunities.

A recent study by the University of Southern Mississippi with support from the University of South Alabama estimated that passenger train travelers coming to Mobile will greatly contribute to the local tourism economy. In 2016, 1.8 MILLION visitors stayed in City of Mobile hotels. This study provides information that if train service adds just a ½% increase in those hotel nights – about 9,400 additional people over the course of a year – it could add $5.93 Million annually to Mobile's economy.

Returning passenger train service to our regional transportation system builds economic resilience in many, many ways.
For those who can attend this important meeting in person, it will be held at 205 Government Street in Mobile on Februrary 4th starting at 10 am.
MAKE YOUR VOICE HEARD
Joe Aiello
Rail Passnegers Field Coordinator
[email protected]
"Thank you to Jim Mathews and the Rail Passengers Association for presenting me with this prestigious award. I am always looking at ways to work with the railroads and rail advocates to improve the passenger experience."
Congressman Dan Lipinski (IL-3)
February 14, 2020, on receiving the Association's Golden Spike Award